ZION BAND


FREEDOM CITY
1982 / 12" / UNITONE
80年代のあるとき、僕はエコー・ユニットと中古のミキシング・デスクを買って、ダブ・サウンドを作ろうとしたんだ。僕はギターも始めて、レゲエ・ミュージカルの演劇集団に入って、イギリスとドイツをツアーした。それからRESTRICTIONに入って、ARIWAスタジオでMAD PROFESSORと12インチを録音したんだ。 ROB SMITH interview (2007)
1980年の
セント・ポールズ暴動
後に発足した、職のない若者を助けるプロジェクトARTS OPPORTUNITY THEATRE(AOT)から生まれたバンド。同名の"レゲエ・ファンク・ミュージカル"の劇伴バンドで、このレコードには1年のトレーニング期間(TALISMANのLEROY FORBESがスーパーバイザーとして指導)に作られ、劇中で演奏されていた18曲から4曲(+ダブ2曲)が収録されている。1982 年5月録音、1983年1月に一般発売。シルクスクリーン・スリーヴで数100枚のみプレスされ、関係者とツアー先のみで販売された超・稀少盤。
1. Freedom CIty (singer Noel Smith)
2.
Babylon
(singer Noel Smith)
3. Babylon Dub
4.
Twelve Tribes
(singer Noel Smith)
5. Twelve Tribes Dub
6. To See Your Smile (singers Pauline Hinds, Jackie Jackson)
AOTのミュージック・ディレクターも務めていた
CLIVE SMITH
がギター。メイン・シンガーのNOEL SMITH(CLIVEの弟)、PAULINE HINDSがミュージカルでも女性主役を務めた。ミュージカルの男性主役はKARL WILLIAMS(RONI SIZEの兄。本作レコーディングには不参加)。MARK SPENCE、ANDREW CLARKE、ROB SMITH、BASIL ANDERSONはこの後RESTRICTIONとして活動し、JACKIE JACKSONはSMITH & MIGHTYに参加する。
band:
Mark Spence (Bass)
Andrew Clarke (Drums)
Clive Smith (Lead Guitar)
Rob Smith (Rhythm/Lead Guitar)
Basil Anderson (Organ/Synthesizer)
Jack Esoda (Percussion)
Mark of Holland (Tenor Sax)
Noel Smith (Vocal)
Pauline Hinds (Backing Vocal)
Jackie Jackson (Backing Vocal)
Clive Smith (Harmonies)
※下掲のパンフレットには、後にTALISMANに参加するCHRIS POTTERの名前もある。
art concept + design: Reynold Duncan
artwork: Arts Opportunity Theatre Art Dept.
photography: Linton White, Roy Wilcox
produced by: Yvonne Deutschman + Reynold Duncan
arranged by: Clive Smith, Reynold Duncan, R.Bideau (Freedom City), Leroy Forbes (Babylon)
mixed by: Barry McCarthy
sound engineer: Liam Henshall
assistant engineer: Phil Andrews
recorded at: Right Track Studio, Redland, Bristol
thanks to Liam Henshall for all his advice during production
published by Unitone 1982
関連テキスト
■
REGGAE music in 80s
■
RESTRICTION
■
ROB SMITH interview (2007)
taken from Facebook
from BBAP's Guide to African-Caribbean Sources in Bristol's Museums, Galleries & Archives
Arts Opportunity Theatre (AOT) was formed in April 1981 as a Youth Opportunities Programme (YOP). It developed from the production of Freedom City, a musical by Guyanese musician Reynold Duncan and TV filmmaker Yvonne Deutschman, which opened in August 1981 and received international success.

The project was artistically creative but also provided work experience opportunities for unemployed young people. Initially based in Dockland Settlement in St Paul's, AOT had six departments but later expanded its training areas into other technical skills. In August 1983 AOT became part of the Government funded St Paul's Youth Training Scheme. The organisation then offered a wider variety of training and skills development courses. The base of the initiative also moved to 98-100 Grosvenor Road in St Paul's.

The work of the company resulted in the formation of two reggae bands, Restriction and Zion Band; a jazz-funk ensemble, Kobra; a female vocal backing group, 3Js; and a break dance and body popping dance group, Emperial Force. A group of 30 former trainees also formed a separate self-financing company, The Arts Freedom Theatre.

The collection contains minutes, correspondence, financial records, administrative files, photographs, audio recordings, video recordings, posters, news cuttings, reports, articles, scripts, scores and other material, 1970s–1990s. Most material relates to the Arts Opportunity Theatre, but some relates to St Paul's Youth Training Scheme in its early years.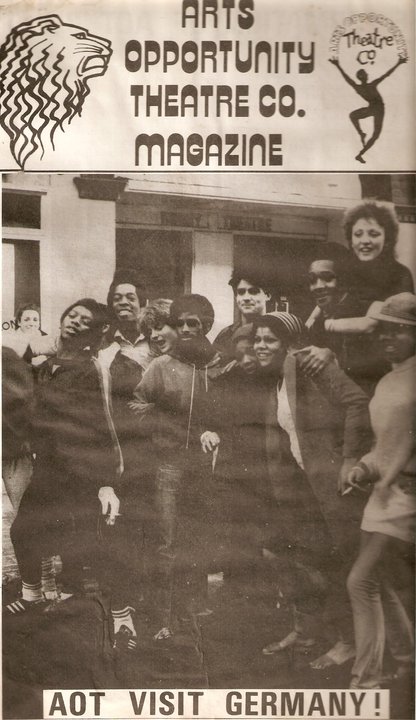 関連記事